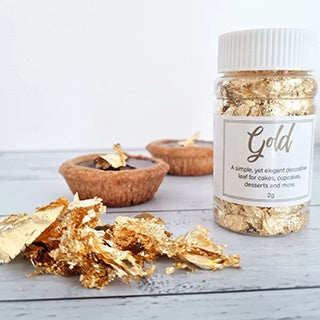 Decorating Leaf 2g Gold
Pickup currently unavailable at 281 Stafford Street, Timaru
281 Stafford Street, Timaru
Pickup currently unavailable
281 Stafford Street
Timaru
CAN
Timaru 7910
New Zealand
+642108655486
Decorative Leaf is so easy to use. With either a knife or kitchen tweezers you can get a small amount out of the jar and place it directly onto your product wherever you wish. It is a very versatile, stunning product that can be used on macarons, cookies, cupcakes, muffins, tarts, cakes, desserts and more.
Is GoBake Decorative Leaf Edible?
GoBake Decorative Leaf is made with ingredients present in everyday foods such as tap water, tea, herbs, oysters, mushroom, nuts and many more.
The Silver Decorative Leaf is classified as edible based on FSANZ (Food Standards Australia New Zealand) guidelines, however we have chosen to promote the full range as decoration only. Australia and New Zealand have very strict rules on food guidelines compared to other countries around the World.
A good way to think about the Decorative Leaf is comparing it to floral decorations on a cake. It is something that could likely be consumed, and you wouldn't be unwell if you had a small amount. However, it does not meet the required standards of FSANZ to be sold as edible.
Use our Decorative Leaf on many products:
– Tarts
– Macarons
– Muffins & Cupcakes
– Desserts
– Cocktails
– Even on savoury dishes!